Notice though that we are still ahead of 2021 with the number of sales (graph 3) and the average sales price is up 9%+ at just over $400,000! So home seller's are still doing well & taking advantage of the 25% appreciation of the last couple years. Mortgage rates are holding steady for now (even dipped below 5% for a few days last week) and while buyers are more cautious it still makes sense to own a home in many cases, especially compared to renting.

Who you hire to represent you in a sale or purchase is even more important now. Intimate market knowledge, consistency, reliability & honesty are the standards Travis and I focus on. Understanding how to help you buy right or sell for top dollar is our passion so please reach out if you want to discuss either.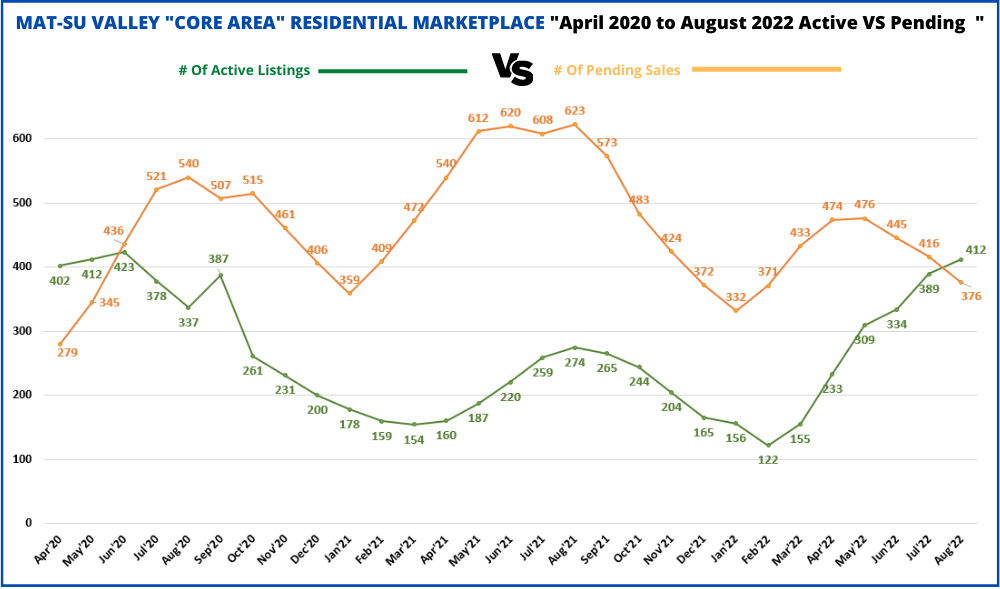 Finally below 100% with the ratio between active and pending! Keep in mind "normal is 50-60% this time of year.
We still are running ahead of record breaking 2021 with the number of sales!! That has to change soon right???


We are up about 9% in average sales price this year! Will that start dropping??

If you or anyone you know has ANY thoughts of buying or selling real estate in 2022, lets connect to talk about the opportunities available in our market and how to reach your goals.


__________________________________________________________


LET US BE YOUR TRUSTED GUIDE


Call or text Dave now at 907-863-7289
Call or text Travis now at 907-575-6779
davesalaskahomes@gmail.com
http://www.DavesAlaskaHomes. com