Best Wishes for a Merry Christmas and Happy New Year from Dave and Travis! Many thanks to you all!

Wow, 2022 is sure exiting with some nasty, nasty weather here in Alaska and now throughout the lower 48! Wish I was in Hawaii!! As I write this the wind is howling, snow is drifting and its just too darn COLD. Hopefully you all can snuggle up with loved ones and ride it out. I sure feel for those trying to travel! I'm gladly staying HOME for now! Take care everyone!
Below is my last residential real estate market update for the year. I will be kicking out my 2022 review and (good luck Dave!) my 2023 projection next. When people ask "how is the market Dave" it really depends on what market you ask about. One piece of "good news" has been the recent drop in mortgage interest rates to the 6% range from over 7%! Comparing November numbers for the last 5 years there is a big decline in the number of sales which is true nationwide as well. Average sales price is still holding steady. I look forward to any thoughts or questions folks! See Below..

Here is another table comparing the $250-450,000 price range and $450 – 850,000 price range. As you can see the action is in the $250-450,000 price range with 40% of the active listings, 56% of the pending sales & 60% of closed sales! Compared to the $450-850,000 range which has 45% of the active listings, 30% of the pending sales and just 26% of sold homes year to date. Any questions- feedback about this please let me know! See Below..


Now let' s look at the December numbers for core area starting with active listings (Supply). While we for sure have more active listings compared to 2021 we are still far off the number in 2019 (279-472). Until we see more supply (again a nationwide issue) don't expect any significant change in the average sales price..See below…


We see a big reduction in pending sales (demand) with just 204 compared to 424 in 2021 and 272 in 2019! We know 2021 is a unique year unlikely to repeat itself but trending below 2019 is concerning. Even still with all the headwinds in the economy etc demand is pretty solid. A nice home in the $300-400,000 price range is still selling fast in the Valley  from what I see. See Below..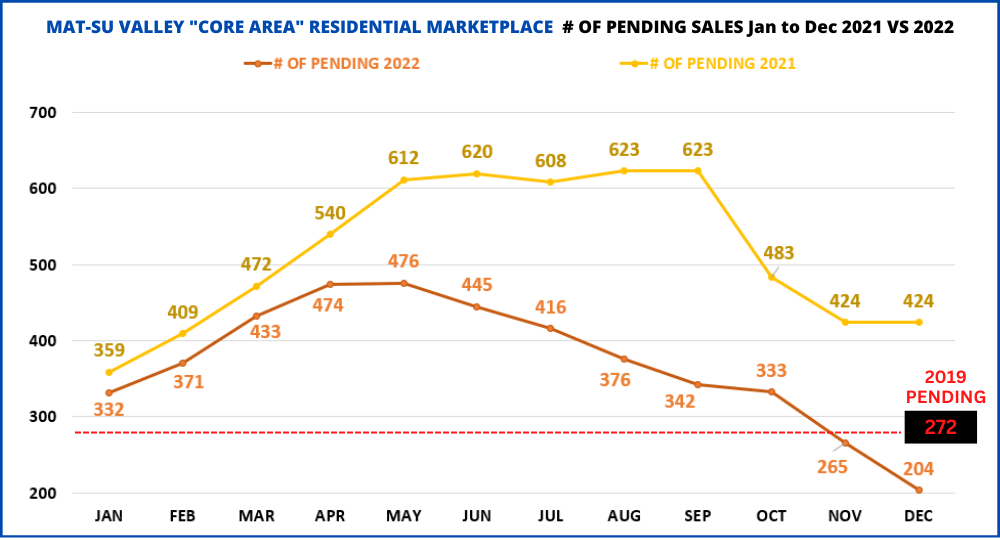 Now we see the number of closed sales and while the decrease is significant we are still over 2019 numbers thanks to the strong start to the year. See Below..

Now for a look at average sales price. We are still up about 10% for the year on top of the about 30% more since 2019. Average yearly appreciation is 3-4%. And the projections I am hearing expect to see 3-5% increase in 2023! Folks, prices are not going down any time soon if ever. The media will say the foreclosure numbers are up 150% or so from last year but but that is misleading for sure. Foreclosure rate is at record lows and that isn't changing especially due to all the home equity acquired in the last few years. Very few home's are "underwater" or worth less than what is owed. Any questions or comments appreciated! 

Check out our Beautiful Listings at https://www.davesalaskahomes.com/results-gallery/?userID=all
Search for homes easily at www.DavesAlaskaHomes.com
Get your home's estimated value instantly at www.DavesAlaskaHomeValues.com
If you or anyone you know has ANY thoughts of buying or selling real estate, lets connect to talk about the opportunities available in our market and how to reach your goals.


__________________________________________________________


LET US BE YOUR TRUSTED GUIDE


Call or text Dave now at 907-863-7289
Call or text Travis now at 907-575-6779
davesalaskahomes@gmail.com
http://www.DavesAlaskaHomes. com