First, my friend Marty Van Diest with Valley Market Real Estate shares my fondness for putting together the market trends to help predict where things are going. He took a look at the month of October sales for the last 5 years which I think illustrates well where we site right now. His numbers are for the entire Mat-Su Valley residential real estate FYI. There has been a big drop in the number of sales (this is true nationwide as well). 171 closed sales in October of this year versus 183 back in "normal" 2019 tells some of the story. Notice though that the average sales price is up considerably (roughly 35%) since 2019 highlighting the incredible gain in equity we have seen in the last couple years! Most people will say that the higher interest rates are the main cause in the drop in sales. Sure it is part of the reason but the big driver I think is lack of supply (again a nationwide issue). More about that below when we look at supply and demand. Travis & I have about 5 buyers ready to buy if we could just find them the right property, generally in the $300-400,000 price range. Nice homes listing in that range are still selling quickly and for top dollar. And mortgage interest rates dropped nicely of late which is helpful.
Any questions or thoughts please let me know and see below for more market statistics & trends.

ADOM stands for average days on market. The shorter the ADOM the hotter the market.
______________________________________________________________

Now on to the core area market trends for November and first lets look at supply (active listings). While we have 100 more than 2021 ("not normal") we still fall short considerably from 2019 (230 less!). And we really don't see where more inventory is going to come from especially in the $300-400,000 price range. New construction has slowed and the common price range there is over $500,000 (there are some great deals showing up no though!). We track defaults and there sure isn't a big slug of homes heading to foreclosure…and that is not expected to change. And folks that bought or refinanced into those wonderful 3% rates are staying put at least for now.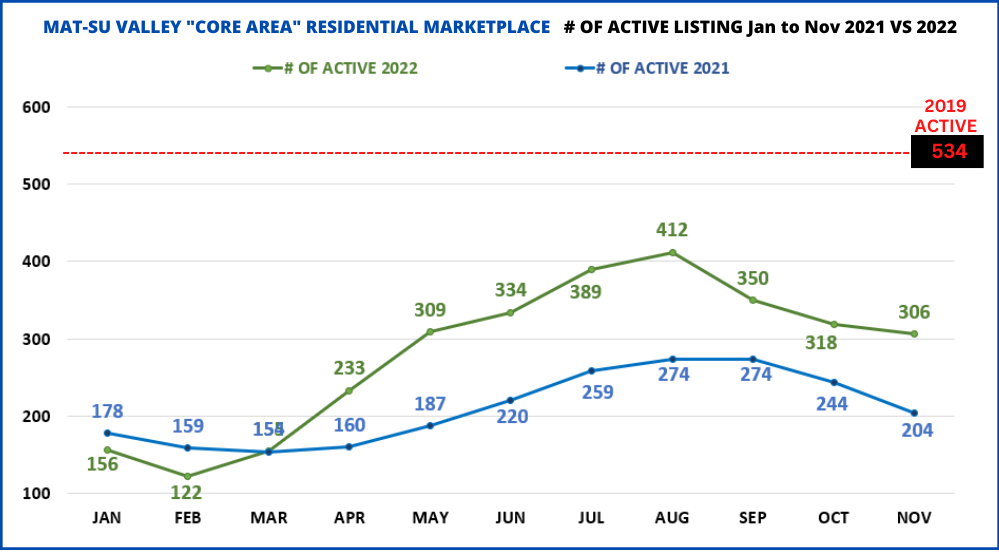 We have seen a big drop in demand (pending sales) compared to 2021 and we are even under 2019 numbers quite a bit. Again, if you look at these numbers at different price ranges its a different story in the $300-400,000 price range compared to the over $500,000 range. If you want detail some detail about this just let me know!
Now let's look at the # of closed sales year to date which shows a pretty decent decline from 2021 but still more that 2019. It will be interesting to see where we end up the year and what happens the first 3 months of 2023. Again, my sense is that a lack of supply is a bigger issue in the drop in sales than increased mortgage interest rates. Would appreciate feedback on this.
Finally the good news (for sellers especially) remains the average sales price holding steady (unless you are a buyer rooting for a crash..but don't hold your breath). We are still up for 2022 about 8% in average sales price according to my numbers. I could be wrong but I don't expect to see this dropping in any meaningful way unless..we all of a sudden get more inventory. The times we are in are nothing like 2008-2010. 40-50% of homes were "underwater" back then and I heard the number now is less that 1%. Big difference.
As always I would welcome any thoughts or feedback. 

Check out our Beautiful Listings at https://www.davesalaskahomes.com/results-gallery/?userID=all
Search for homes easily at www.DavesAlaskaHomes.com
Get your home's estimated value instantly at www.DavesAlaskaHomeValues.com
If you or anyone you know has ANY thoughts of buying or selling real estate, lets connect to talk about the opportunities available in our market and how to reach your goals.


__________________________________________________________


LET US BE YOUR TRUSTED GUIDE


Call or text Dave now at 907-863-7289
Call or text Travis now at 907-575-6779
davesalaskahomes@gmail.com
http://www.DavesAlaskaHomes. com