It appears that Winter has arrived! Remember, the info I share is overall numbers for the "core area" of the Mat-Su Valley. Things can look very different with specific area's, price ranges and home age. Please contact me if you want a "deep dive" on any market or area.

Is the real estate market crashing? Nope and I'll show you the latest trends to back that answer up. Now, have things slowed down quite a bit? For Sure! The rapid rise in interest rates has been a big concern. They sit at about 7% for a 30 year fixed rate conventional mortgage. Talking to a couple loan originator's this week they feel rates will go up a couple more times this year. Hopefully not over 8% but who knows. But homes are still selling at a good pace and there are some things we can do to help with the rates and affordability.
I think we are seeing an uptick in "cash" sales and increased buying power. If you don't have enough cash but plenty of equity in your home (remember everyone picked up about 30% equity in the last couple years) consider selling or do a refinance to convert that equity into an asset.
Look at "buying down" the interest rate. Lots of factors in the cost so we have to look at it in real time but seller's may be more willing to pay for this. Most loan programs allow 3-5% seller concessions which could buy down the rate 1/2-1%.
 The old saying "you make money in Real Estate when you buy" is still very true. So if the fair market value is $300,000 and we can buy for $275,000 that leaves some money to help with payments etc.
And of course when rates go back down, it may make sense to refinance to a lower rate. I have a national report where the big 6 (fannie mae, freddie mac etc) are  projecting rates in the 5.5% range by Summer 2023. I don't think we will ever see those tasty 3% rates again but who knows?
Now on to the market trends for October. 
We still have very low supply at around 315 compared to 569 in 2019!Pending sales went back to more than active and is about the same as 2019 around 330. 

The ratio between active and pending ticked up to about 105% versus about 59% in 2019.

The number of sales compared to 2021 (remember, a record year) is dropping quickly from 1632 to 1530 compared to 1380 in 2019.

Average Sales price is declining from the highest ever at about $402,000 to $396,000. We are still up about 8% for the year though so no crash there…yet!

In closing, you can still sell a home for a good price and it still makes sense to buy your own home in many cases. I really don't see home values decreasing much in our market with inflation, especially in the cost of renting, lack of supply and surprisingly good demand. You just have to be really smart and work with a professional that knows what's going on.
Keep tuned for November numbers and as always would really love to hear what is happening in your world in these crazy times!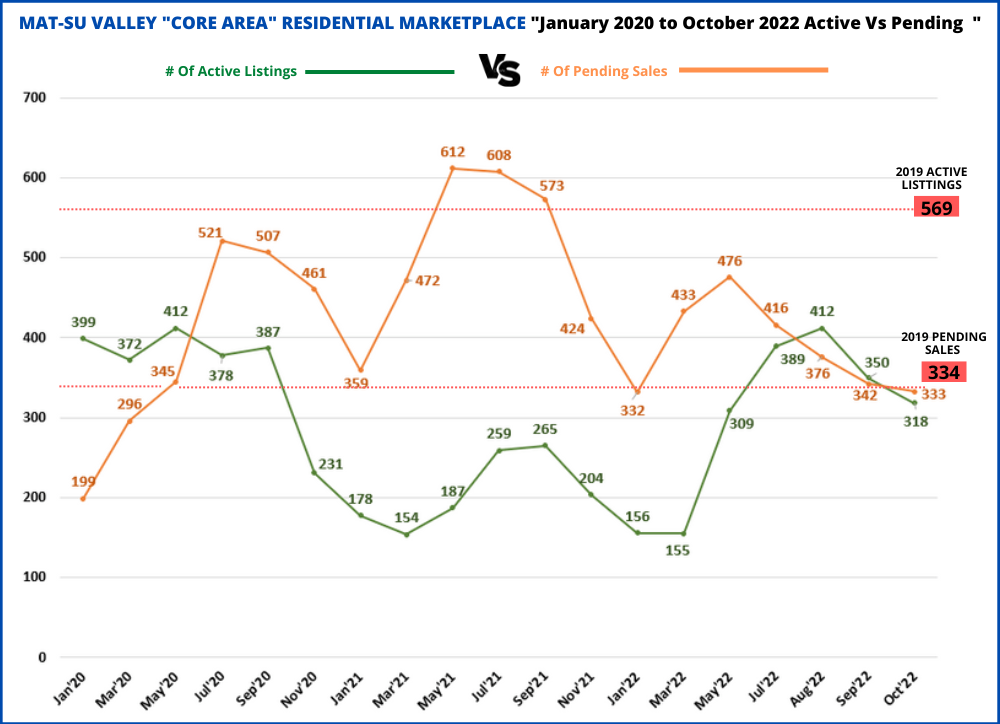 If you or anyone you know has ANY thoughts of buying or selling real estate in 2022, lets connect to talk about the opportunities available in our market and how to reach your goals.


__________________________________________________________


LET US BE YOUR TRUSTED GUIDE


Call or text Dave now at 907-863-7289
Call or text Travis now at 907-575-6779
davesalaskahomes@gmail.com
http://www.DavesAlaskaHomes. com